U.S. Constitution - Pocket Edition
---
The Constitution of the United States of America has less than 5,000 words. For more than two centuries it has provided Americans with a powerful and enduring framework for self-government. It is the oldest written constitution still in use today.
The Constitution explains what "We the People" expect of our government and ourselves as we strive to create "a more perfect union." It helps all of us answer how our nation started and what America means in the 21st Century. Use it well.
This pocket edition of the U.S. Constitution is perfect for discussion and engagement inside and outside of classroom. 
Do You Need A Different Quantity?
Please contact the Constitutional Democracy Project to receive a custom quote.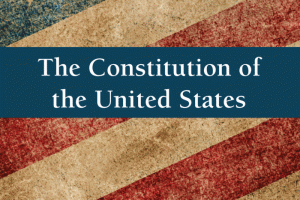 ---
Individual Copies
Single Constitutions ($1.50)
Classroom
Classroom Sets of 30 ($30 per set)
Bulk Pricing
Sets of 100 ($80 per set)

Sets of 250 ($175 per set)

Sets of 500 ($325 per set)