Civil Conversation on the Gettysburg Address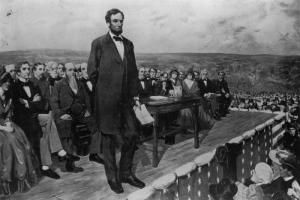 On November 19, 1863, President Abraham Lincoln dedicated the cemetery at Gettysburg, Pennsylvania, where Union and Confederate armies had fought July 1-3 in the decisive battle of the Civil War. His brief remarks there became known as the Gettysburg Address, one of the greatest statements about self-government in American history.
CRFC invites you to read and discuss Lincoln's words and the future of "the unfinished work which they who fought here have thus far so nobly advanced." 
In this this structured discussion activity, participants are encouraged to engage intellectually with challenging materials, gain insight about their own point of view and strive for a shared understanding of issues.
Introduce primary and secondary sources into the conversation using these resources:
Gettysburg Address 
Background on Gettysburg
Gettysburg National Military Park
Audience: Middle School (6-8)
Topic: Citizenship, Rights and Responsibilities, Federalism
Teaching Strategy: Controversial Issues, Discussion/Deliberation
US Constitution: Preamble