We the People State Hearings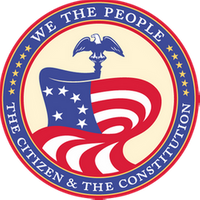 The 2022 We the People State Hearings will be a jointly administered program for the Illinois and Wisconsin We the People participants.
We the People program's culminating activity is a simulated congressional hearing in which students "testify" before a panel of judges acting as members of Congress. Students demonstrate their knowledge and understanding of constitutional principles and have opportunities to evaluate, take, and defend positions on relevant historical and contemporary issues.
The hearings are open to middle and high school We the People classes from Illinois and Wisconsin. Classes can opt to participate either as an exhibition team or as a competitive team. Only competitive teams are eligible to participate at the National Hearings should they be declared their state's champion.
For information on the Wisconsin program contact Tim Moore at tdmoore2@wisc.edu.
For information on the Illinois program contact Dee Runaas at drunaas@kentlaw.iit.edu.